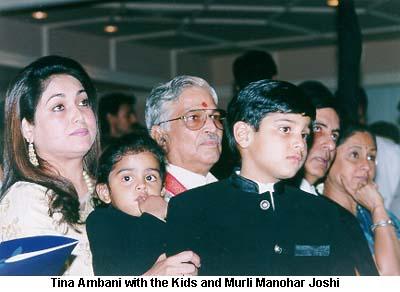 Anil Ambni is Tina Ambani. Anil Ambani married to Tina Munim, a famous Bollywood actress of 1980s. Now Tina Ambani. Anil Ambani and Tina Ambani have 2 sons name Jai Anmol & Jai Anshul.
The first photograph is of Tina Munim during her older days. The 2nd photograph is of Tina Ambani with her 2 sons with Amitabh Bachhan & Jaya Bachhan.
The above photograph is of Marriage Ceremony of Anil Ambani with Tina Ambani.
Anil Ambani has bought his wife a Rs.400 Crore Yacht as a Gift -
Close on the heels of his brother Mukesh Ambani gifting a Rs 250 crore corporate jet to his wife Nita last year, Anil Ambani has bought a super
luxury yacht for wife Tina, pegged at around Rs 400 crore. An Anil Ambani Group spokesperson confirmed the purchase, but refused to disclose details.
Named Tian, which combines the first two letters of Tina and Anil's names, the yacht is at present anchored near Gateway of India in Mumbai and will be used by the couple to usher in the New Year. According to highly-placed sources, owning a yacht was one of Tina's long-cherished dreams.

And now, as owner of Tian, she enters an exclusive club of Gautam Singhania and liquor baron Vijay Mallya, who also own luxury yachts. Other yacht owners in India include the Bajaj Group, the Indiabulls Group, the Godrej Group, and auto maker Mahindra and Mahindra Ltd.

Tian was built in Genoa, Italy. It is about 34 metres long and cost around Euro 34 million to build. According to sources in the yacht building industry, the cost of each running metre of luxury yachts is Euro one million. The final cost to Anil Ambani could be around Rs 400 crore, inclusive of customs and excise duties and refurbishing, add sources.