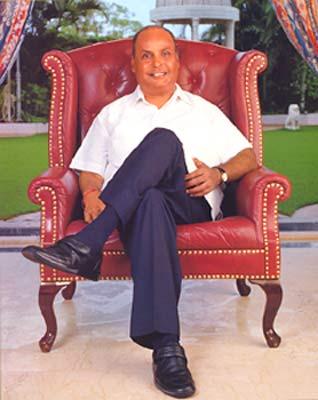 Dhirubhai Ambani is India's 'Rags to Riches and to the richest' story. It is a real life adult fairy tale that came true which everyone would like to read about. The Business empire set up by him regularly features in the Fortune magazines of the world.
His sons Mukesh Ambani and Anil Ambani today figure amongst the world's richest people and are relentlessly getting richer.
Born to an ordinary teacher, the child named as "Dhirajlal Hirachand Ambani' grew up to become 'Dhirubhai Ambani', the master of a giant industrial house. This son of teacher himself became a lesson for the other enterprising people.
As 17 year old teenager he worked for a Aden Company, distributor of Burma Shell products as a minor employee. Upon return to India he started his own Business with a small capital and made it blossom into the Country's biggest enterprise 'Reliance Group of Industries".
Some are born great, on some greatness is thrust but real great is one like Dhirubhai who achieve greatness.
Dhirubhai Ambani was born on December 28, 1932 in Chorwar, Saurashtra, Gujarat. Hirachand Govardhandas was his father. The family was ordinary. Dhirubhai was proud of his father being in a respectable profession like teaching. But it hurt his adolescent mind that such respectable profession could not make life rich financially. Perhaps it was this reason because of which Dhirubhai did not follow the tradition of the son carrying on the profession of the father.
At metric level his learning ended and professional life started. Yes, Dhirubhai Ambani was the school drop out and than he went to Aden. And still he made a fortune. This clearly shows that, educational degrees has nothing to do with financial success.